Bob Gray Retires After 48 Years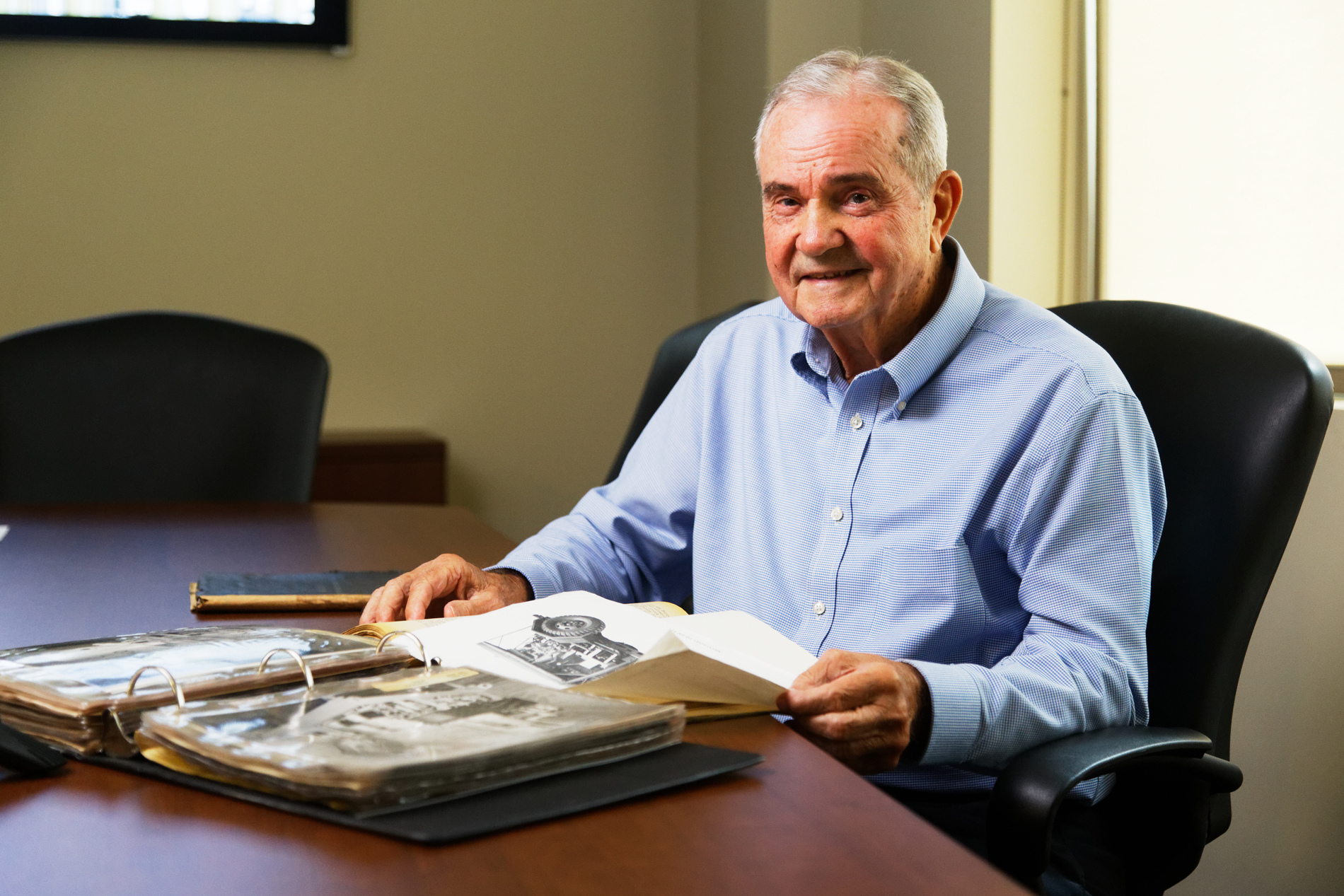 BOB GRAY, MECO MAN, RETIRES.
After 48 years of service, MECO Vice President Robert "Bob" Gray is retiring. It's a landmark event in Bob's life and MECO's history.
Bob Gray, a West Virginia native, came to MECO in 1968, after a 23-year career in the United States Marine Corps. Bob had learned construction from his father and engineering in the Marine Corps. Serving on a multi-service committee appointed to evaluate watermakers for the military, Bob met John Pottharst, MECO's founder. Mr. Pottharst recognized Bob's potential and brought him to MECO as a sales rep at a critical point in the company's evolution.
MECO had begun as a pure water provider to offshore oil and gas installations. During World War II, MECO played an important role in the Pacific theater. By the late sixties, MECO was exploring new market opportunities. Bob Gray became an integral part of that expansion through the seventies and beyond. He sold MECO's first pharmaceutical unit, a K-Model that produced 50 gallons per minute, to UCLA. He sold MECO's first food and beverage vapor compression unit, delivering a MSS 400 to a bottled water plant in China in 1978.
Nearly 40 years ago, when a healthcare company opened bidding for new distillation systems, Bob made the case for MECO. And made the sale. With numerous water purification installations around the world. Loyalty flows from confidence. Confidence is generated by performance. For MECO and Bob Gray, performance is the cornerstone of success.
Bob Gray knows almost every aspect of MECO's operations. He has worked as a sales manager, a service technician, service manager and vice president of pharmaceutical sales. He has even filled in as an interim plant manager and assembly foreman. He has traveled the world, selling and servicing MECO units, building relationships with people whose requirement for pure water is critical to their processes and operations. Bob has engineered industry-specific solutions and designed new technologies including the BG Special, a transportable vapor compression unit that defense forces could airlift to any location by helicopter. Bob's unique combination of engineering expertise, product knowledge and hands-on sales and service experience has helped MECO become an international leader in water purification.
Bob Gray's impact on the water purification industry reaches well beyond MECO. His longtime involvement with the International Society of Pharmaceutical Engineers (ISPE) has enhanced the organization's structure and professional standing. Bob has had a hand in everything from writing trade show protocols to giving presentations on the manufacturing of Water for Injection. Over the years, he has received many honors and awards from ISPE. 
Awards and honors are good things. Bob Gray has earned something better: the trust and respect of his colleagues at MECO and his clients around the world. He's done it by looking and listening, learning and doing. "I think that in the anatomy of Bob Gray there are two circulatory systems. The first being his physical circulatory system and the second one that circulates compendial Water for Injection. In my opinion, Bob Gray, who is the face of MECO, has had a direct positive impact for pharmaceutical companies in their ability to manufacture products that save and sustain people's lives." said, long-time customer and friend, Jack Lowell, Senior Manager, Head of Engineering for Shire. "He is quite the legacy!", Lowell continued.
MECO President, George Gsell, reflected on Bob Gray's tenure with MECO. "It was my privilege and good fortune to have Bob take me under his wing early in my career. We traveled the world together. I witnessed firsthand as he built our business, developing trusted relationships throughout industry."
MECO is where Bob Gray found professional inspiration and fulfillment. It's where he met his wife, Diane. MECO has been as central to his life as he has been to the company's growth. If there were a MECO Hall of Fame, Bob Gray would be there now. As it is, his fame rests securely on the strength of his character and the quality of his contributions to MECO.
MECO hosted a surprise retirement luncheon for Bob on January 27, 2017. The photo gallery below contains pictures from the retirement luncheon.