Pure steam cleaning is beneficial and even necessary for the pharmaceutical industry. Consider the following benefits of using pure steam in pharmaceutics. 
Prevents Contaminants From Entering the System
Standard steam generators have many points where outside biological and chemical contaminants can enter the system and contaminate the steam. When steam is contaminated, the entire system and the products being produced are at risk of contamination. Pure steam equipment is designed to sterilize the steam at the point of vaporization and keep the steam clean throughout the entire process. The design of pure steam systems also helps prevent any contaminants from entering the system.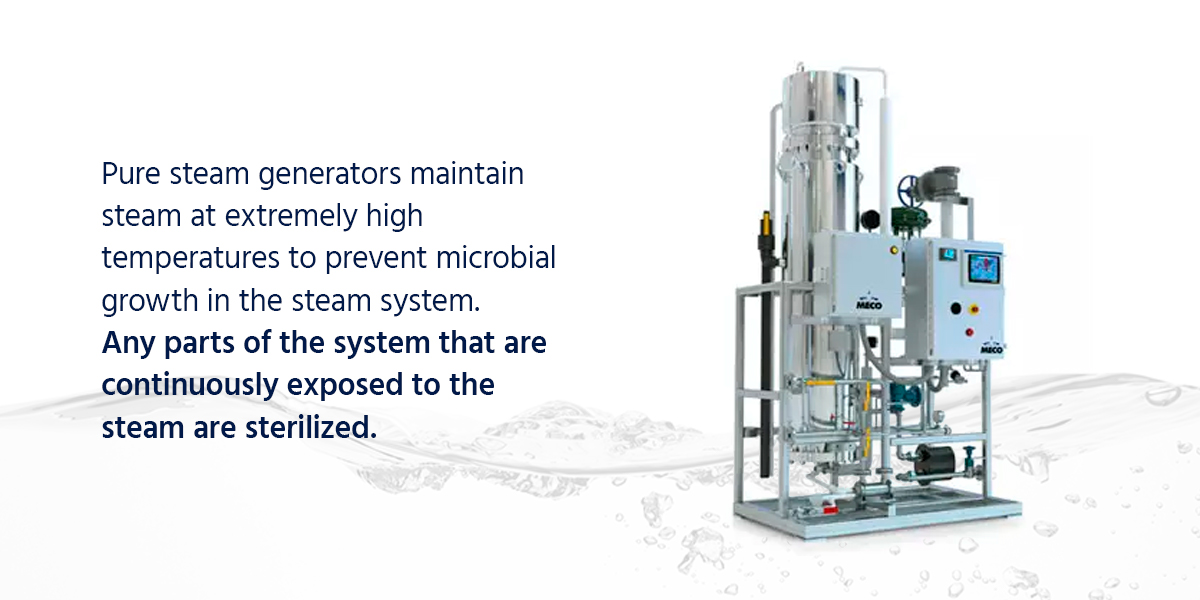 Prevents Microbial Growth
Pure steam generators maintain steam at extremely high temperatures to prevent microbial growth in the steam system. Any parts of the system that are continuously exposed to the steam are sterilized. However, if any condensation occurs and cools down, the stationary water becomes an ideal environment for bacteria to grow. 
MECO pure steam generators are specifically designed to prevent condensed water from collecting in any part of the system. This allows pharmaceutical manufacturers to avoid contaminating their products.
Reduces Potential for Corrosion
Standard utility steam typically needs to be treated with chemicals to prevent corrosion in system components. Because clean steam goes through an in-depth purification process, clean steam is less corrosive. Without corrosive effects, the equipment can last longer and even produce products with more purity. Additionally, any pharmaceutical products being manufactured won't be exposed to those corrosion-inhibiting chemicals.
MECO Steam Generator Applications
One of the most common uses for steam generators in pharmaceutical applications is steam in place (SIP). SIP uses pure steam generators to clean pharmaceutical equipment between production cycles. SIP is used as an extra cleaning measure after the equipment is cleaned in place. Pure steam is superheated to sanitize a variety of surfaces and pieces of equipment. For example, MECO steam generators are commonly used for sanitizing vessels and piping systems.
MECO pure steam generators are also frequently used in support of the following applications:
Learn More About MECO B
iopharmaceutical Pure Steam Generators
Over our nine decades in business, we've strived to engineer comprehensive water purification and pure steam products, solutions and services to best serve our clients and their industries. In addition to our biopharmaceutical pure steam generators, MECO provides numerous services to ensure you and you're team are supported with best-in-class service from MECO. 
For more information on MECO pharmaceutical-grade pure steam generators, how they work and how they can fit into your operation, contact us today.