What Is Vapor Compression Distillation?
Vapor compression distillation (VC) produces WFI using distillation, where equipment process distills the water using phase changes, like evaporation, and entrainment separation.
How Vapor Compression Works
In the VC process, evaporating the water produces vapor through compression to increase the pressure saturation and temperature. By transferring its excess heat to infeed water in a heat exchanger, this compressed vapor condenses to produce WFI. Water moves through VC distillation with the following steps:
Feed water enters the equipment, where a distillate cooler, blowdown cooler and feed heater will pre-heat it to prepare it for evaporation. The presence of the coolers helps reduce strain on the heater.

Pre-heated water then moves to a decarbonator, which helps remove any non-condensable material from the water before it moves to the evaporator.

Water travels to the evaporator, where heated coils boil it. Tubes collect the steam and bring it to a demister, which removes entrained water droplets. Pure vapor condenses on the outside of the evaporator tubes and becomes distillate.

Distilled water drips down tubes where a distillate collection box gathers it, and a distillate pump moves it through a cooler. After going through the cooler, the distilled water becomes WFI and is ready to use.
Distillation through VC is a more energy-efficient process than others because of its inherent ability to reuse excess heat in the early steps. Latent heat produced during the evaporation process returns to the pre-heater and demister, where it can help power these processes. Entrained water droplets return to the feed water to begin the process again, requiring less water and energy to become distillate.
Features of Vapor Compression
When considering using VC over other water distillation methods, you can experience many features that will enhance your distillation uses, including:
Functioning at various temperatures: MECO VC

 

can

 

allow you to

 

produce distillate at ambient temperatures and hot temperatures on demand

. The GII Centurbo Compressors can also function without an attendant or operator, so you can create the necessary distillate while working on other essential tasks.

Simplifying water pretreatment: When you use VC over another distillation process,

 

it typically has less stringent feed water pretreatment requirements.

 

A

 

simpler pretreatment system

 

can make the distillation process more efficient.

Allowing variable production: If you need versatility, a VC distillation process

 

featuring the GII Centurbo compressor makes variable production possible.

 

It allows users to match production to demand which is essential in biopharmaceutical manufacturing.

Increasing savings: VC systems have

 

a larger capacity, providing more significant utility savings.

 

Because they continually reuse water and heat, you will save money on energy to power and heat when running distillation processes.

Decreasing waste: Because VC plants reuse water and heat to power internal systems and run again, there is less waste from VC equipment. Reusing waste will allow you to have a machine with a closed-loop system that does not emit any air while reducing waste disposal costs.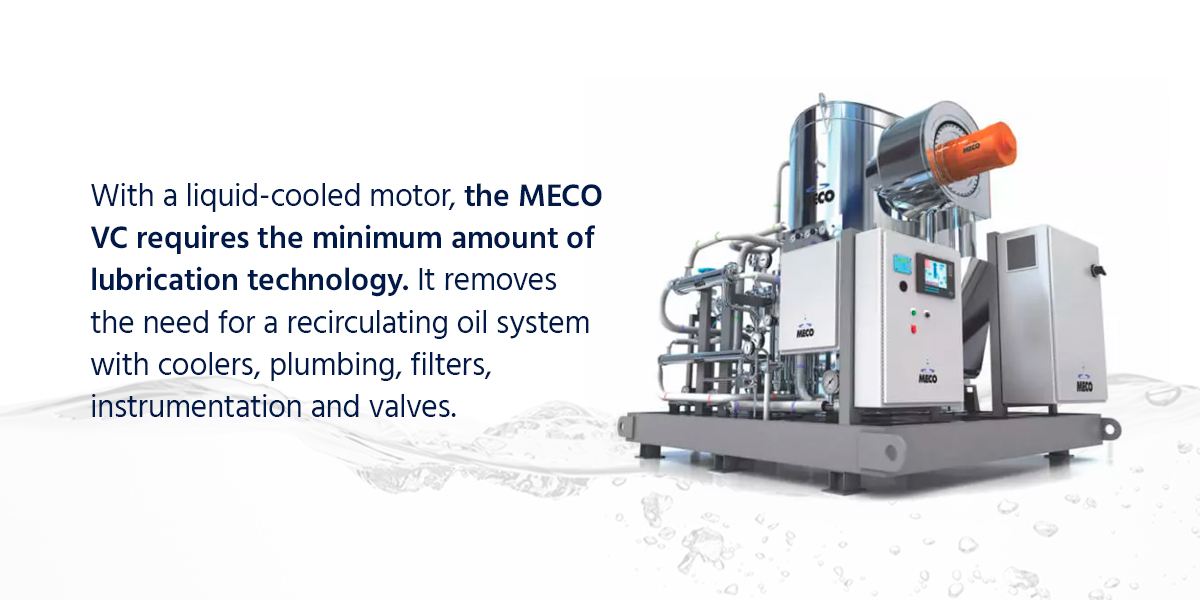 Benefits of
 

MECO

 

Vapor Compression Systems

The MECO VC features the GII Centurbo™ Compressor, which is patented technology. This directly driven variable-speed compressor eliminates the need for maintenance and additional parts while reducing inefficiencies accompanying flex couplings, gear transmissions and belt drives.

With a liquid-cooled motor, the MECO VC requires the minimum amount of lubrication technology. It removes the need for a recirculating oil system with coolers, plumbing, filters, instrumentation and valves. It eliminates oil and filter changes, reducing maintenance requirements while improving reliability and efficiency for increased runtimes with fewer problems.
Energy Efficiency
The energy consumption of your distiller represents the largest expenditure over its lifetime. MECO VC plants are the most energy–efficient in the industry. Given the same feed water temperature, discharge temperatures and flow rates, the steam consumption of VC distillation plants should nearly be identical and significantly less than other conventional distillation methods. However, MECO's large surface area evaporators use less electrical power, translating to the lowest cost per thousand gallons produced.
Choose MECO to Complete Your Biopharmaceutical Water Distillation Needs
Distilling water using VC can help increase your WFI production more efficiently and reliabily while saving you money and energy. Partnering with a solid manufacturer who understands your industry needs can help you find high-quality solutions that fit your standards and budget.
With over 90 years of experience, MECO has worked in many sectors and is the industry leader in several fields, including vapor compression technology for biopharmaceuticals. We design and manufacture the broadest base of water purification solutions to meet our customers needs. Contact MECO today and discover how the MECO VC water distillation equipment can streamline your processes.