MECO's Worldwide Scope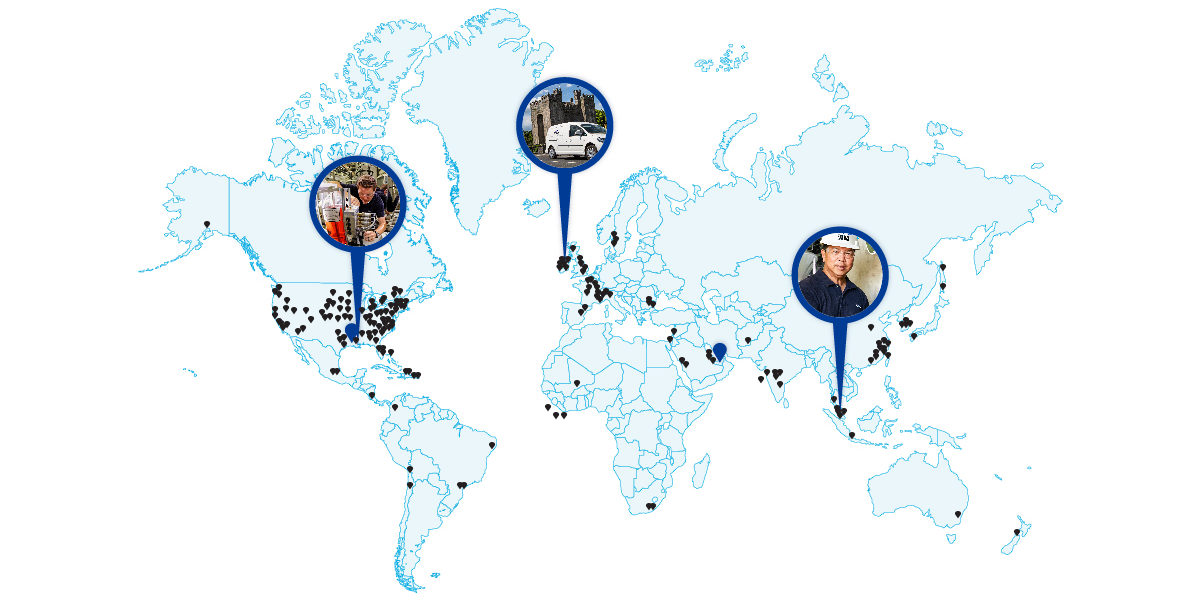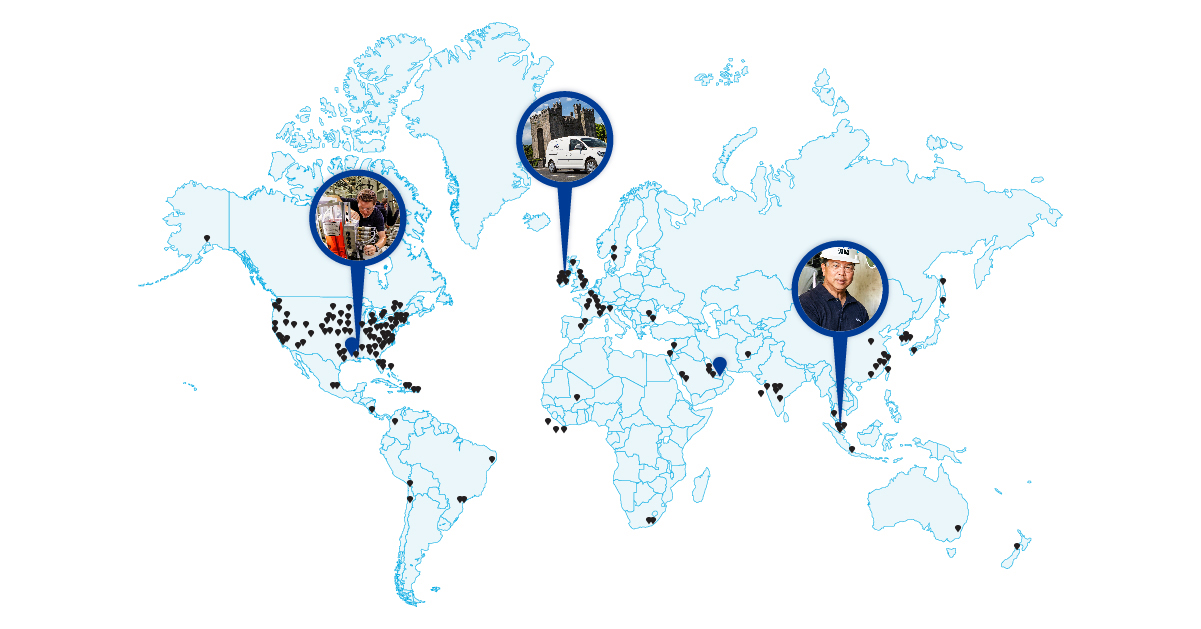 Where in the world will you find MECO water purification systems?
MECO has been engineering, manufacturing and servicing innovative and sustainable water purification solutions for over 90 years. During those 90 years, we have developed and perfected our broad product line, which allows MECO to cater to a diverse range of industries, such as the biotechnology, oil & gas, defense, food & beverage and the industrial sectors. But our extensive product line and provided services are not the only part of MECO that has grown over the years. Our once small New Orleans company has since expanded to Texas, Ireland, Singapore, and the UAE, allowing MECO to provide water purification systems worldwide. With thousands of installations around the world, you can find a MECO water purification system just about anywhere. Discover our world of water with us including some of our favorite featured installations throughout the years to present.
North America                                                                                           
MECO got its start in New Orleans, Louisiana in 1928. Our first patent was the vapor compression process for desalinating seawater in 1939. Which then led to the US Armed Forces utilizing our vapor compression machines to help allied soldiers fight in World War II. Through innovation and technological advances, MECO broaden its product offering to meet the needs for all of our clients.  From pretreatment such as carbon filtration, multi-media filtration and water softening to reverse osmosis, electro-deionization, ultrafiltration to vapor compression, multiple effect distillation, pure steam generation to waste heat recovery and potable water pressure sets. MECO water purifications systems have been utilized all over this continent producing pure water for a variety of industries and locations.
Ripon, California
MECO designed and installed a waste heat desalination system that supplies pure water for industrial purposes for a cogeneration plant in Ripon, California. The system produces 90 gallons per minute (341 liters per minute), and it utilizes waste heat in the form of low pressure steam. The steam is the by-product of a power generation turbine, which provides power to the local utility's electrical grid. MECO waste heat units are typically used in cogeneration and offshore desalination applications, and they are made of 90/10 copper nickel. MECO has been, and continues to be, a leading manufacturer of waste heat desalination plants for over 60 years.
Missouri City, Texas
A major bottled water company in Missouri City, Texas utilizes MECO's vapor compression distillation system to produce pure water for retail. The system produces 7,200 gallons per hour (27,255 liters per hour) of distillate from a reverse osmosis feed water source. The system is designed and built in accordance with cGMP standards. This MECO system provides superior energy efficiency, so the company saves on time and money. MECO is a leading provider of pure water for critical manufacturing processes in the food and beverage industry. Our vapor compression distillers, Reverse Osmosis plants and other products produce quality feedstock and wash water for the world's sodas, sports drinks, other beverages and food products.
South America
No matter where in the world our customers are located, MECO is able to provide them with a sure source of pure water. From the Atacama Desert in Chile through the countries of Colombia and Brazil and to the jungles of Puerto Rico, MECO systems are purifying water so our customers can continue developing life-saving drugs, mining copper, desalinating water and providing drinking water in areas where water is scarce.
Antofagasta, Chile
MECO designed and constructed vapor compression desalination plants for a copper mining facility in the Atacama Desert in Antofagasta, Chile. Since water is sparse in the desert, the purpose of the plants is for the production of drinking and process water. The plants are fully automated and explosion proof, and they produce 360,000 gallons of water per day (1,362,748 liters per day). The plants are constructed of 90/10 copper nickel and titanium and provide corrosion resistance for long life.
Mariacao, Puerto Rico
A major pharmaceutical company is utilizing a MECO reverse osmosis system as pretreatment to a vapor compression still to produce IV fluids in Mariacao, Puerto Rico. This custom MECO RO system produces over 1,000 gallons per hour (3,785 liters per hour) of water. The RO system incorporates all of the components and instrumentation required for operation, as well as the versatility to adapt to specific customer requirements. Technical parameters such as cross flowrates and membrane flux are among the most conservative in the industry. MECO RO units are also available in the MASTERpak™ series, a system that incorporates pretreatment, reverse osmosis, electro deionization and ultra-filtration all on a single packaged skid.
Europe
Over the past 20 years MECO has grown its portfolio of drug manufacturers, oil and gas producers and food and beverage companies in Europe. They tap MECO for water purification systems that produce pure water critical to their operations. From highly purified water used for injectable drugs to potable water serving workforce on oil rigs to distilled water in bottles on grocery shelves, MECO's sole focus is engineered products for water purification. Our Ireland office is a reflection of MECO's mission to provide the most reliable and responsive service to customers around the world.
Ireland
A major biotechnology company utilizes MECO's MASTERpure™ system to manufacture medicines for the treatment of serious medical conditions in Limerick, Ireland. This custom MASTERpure™ system produces over 15,000 gallons per hour (56,781 liters per hour) of Water for Injection (WFI) and 12,000 gallons per hour (45,425 liters per hour) of pure steam. The process incorporates a patented ultrafiltration technology as a first line of defense to reject suspended solids, bacteria, viruses and organic compounds before they enter the downstream components. The process provides the highest level of water quality throughout the plant. The end result is a design that substantially reduces microbiological activity within the entire water system and minimizes downstream cleanings.
Spain
A major medical technology company utilizes MECO's MASTERfit™ system in Fraga, Spain to manufacture critical medical devices, supplies and equipment for the healthcare industry worldwide. The system produces over 1,200 gallons per hour (4542 liters per hour) of Water for Injection and 13,200 gallons per hour (49,967 liters per hour) of pure steam. The MECO MASTERfit™ System saves utilities and maintenance costs relative to membrane-based pretreatment systems. MECO's patented sanitization process controls bioburden within the system without the need for an external clean steam generator. Simplifying system design while providing the highest quality in the remaining components ensures a cost effective and reliable means for producing either USP Purified or WFI grade water.
United Kingdom
In the United Kingdom, MECO's vapor compression distillation systems are being utilized by major beverage companies to produce bottled water. The MECO systems produce over 7,200 gallons per hour (27,255 liters per hour) of distilled water. The MECO VC features its patented technology, the GII Centurbo™ Compressor. This directly driven variable-speed compressor eliminates the additional parts, maintenance and in-efficiencies associated with belt drives, gear transmissions and flex couplings. The motor is liquid cooled and incorporates minimum quantity lubrication technology. There's no recirculating oil system with filters, coolers, pumps, plumbing, valves and instrumentation. There is no oil and filter changes, which means the need for maintenance goes down and efficiency and reliability goes up. This ensures the beverage company has a longer runtime and fewer headaches. There are plans in development to replicate this UK plant for the company's South American facilities.
Asia
MECO has been serving the Asia-Pacific region for over 20 years providing ultra-pure water to oil & gas platforms, biotech and pharmaceutical manufacturing operations and food & beverage bottlers. With an office strategically located in Singapore, MECO continues to provide the most reliable and responsive products and service support to our clientele.
Offshore Sakhalin Island, Russia
A major oil and gas company utilizes MECO's custom built reverse osmosis plant for drinking and process water needs in the extreme arctic conditions off the northeast coast of Sakhalin Island in the Russian Far East. The plant is designed to withstand the effects of and operate in sub-zero temperatures and an earth quake zone. The system consists of two desalination trains, producing 392 m3/day of desalinated water for drinking and a percentage as high purity water for process needs. The seawater piping and vessels are insulated and heat traced to withstand the arctic environment.
Mumbai, India
MECO has designed and constructed two vapor compression desalination plants for offshore India in the Mumbai High oilfield located in the Arabian Sea approximately 160KM west of the Mumbai coast. The plants were designed for the production of drinking and process water, and they are fully automated and explosion proof. The plants were constructed of 90/10 copper nickel and titanium to provide corrosion resistance and a long life. MECO VC desalination plants have been desalinating Arabian Seawater for over 80 years.
Singapore
A major biotech company that produces lifesaving vaccines utilizes the MECO pretreatment and Vapor Compression distillation system in Singapore. The MECO system produces over 1,600 gallons per hour (6,057 liters per hour) of Water for Injection (WFI). The pretreatment and VC system are the most energy efficient systems in the industry. The system features MECO's GII Centurbo™ Compressor, which automatically shifts production outputs as needs vary, saving energy and money. Lowering system output by 25% consumes 40% less energy. This allowed the customer a shorter payback period due to utility and operational cost savings.
Guangzhou, China
A major producer of IV fluids utilizes the MECO vapor compression distillation system to produce Water for Injection (WFI) for their IV fluids in Guangzhou, China. The MECO system produces over 4,500 gallons per hour (17,034 liters per hour) of Water for Injection (WFI). The VC system is the most energy efficient and reliable system in the industry, so the customer can have peace of mind while producing life-saving medical equipment. The system also features MECO's GII Centurbo™ Compressor for enhanced efficiency and cost savings.
Africa
Desalinating seawater off the coast of West Africa is no easy task. The waters are shallow, warm and highly turbid with river estuaries contributing higher levels of silt and bacteria. MECO's enhanced ultrafiltration membrane system is rated at 71 m3/day and is designed to perform continuously without interruption. The life cycle costs of the plant are reduced through improved efficiency, lower maintenance and more time online. Typically, plants are designed to produce drinking water quality and high purity water for process operations.
Middle East
MECO was contracted to design and develop the Light Weight Purifiers (LWP) and subsequently manufactured over 400 units in support of the armed forces needs for drinking water. The MECO LWP is the world's most advanced lightweight mobile water treatment unit. The LWP removes nuclear, biological or chemical agents from the water supply. The LWP can be set up 45 minutes and operated by one soldier, providing hydration to soldiers where water can be sparse. It can be transported on a HMMWV or in a Blackhawk helicopter, and it is air transportable and air droppable. The system is capable of operating on highly turbid waters and can treat water contaminated by weapons of mass destruction (i.e. nuclear, biological or chemical agents). MECO LWP units are presently operating throughout the world in support of armed forces and disaster relief.
MECO designed and installed two train potable water pressure set systems that provide instantaneous and steady water pressure for the newly completed Al Nasr oil field Super Complex facilities. Located offshore Abu Dhabi in the Arabian Gulf, the Al Nasr mega-structure is the largest super complex in the world. MECO's potable water pressure set systems provide potable water used for drinking, cooking and toiletry items as well as eyewash/safety shower requirements. The water from the potable tank is distributed to various users by the potable water pumps. Before distribution water is passed through the potable water package (2 complete packages each sized at 100%, one operating and one standby spare). The purpose of each potable water package is to minimize pressure surges due to supply pumps, maintain a pressurized capacity for the specified duration and provide UV sanitation of the supply system. The packaged water systems are suitable for IEC Zone2 IIB, T3 Hazardous area environment.
Where Tomorrow Gets Its Water®
Our customers are shaping the future, and they require a sure source of pure water, in biotech labs and high output drug manufacturing facilities, in offshore oil exploration and production, in food & beverage manufacturing plants and in places where freedom is at risk. MECO's worldwide scope allows us to service our customers, no matter the place and no matter the reason. MECO's international reach is one of many reasons why Tomorrow Gets Its Water® from MECO.
Want to find out more about where MECO systems can be found around the world? Check out our interactive world map!