Multiple Ways You Give Back to the Environment When You Use MECO Technology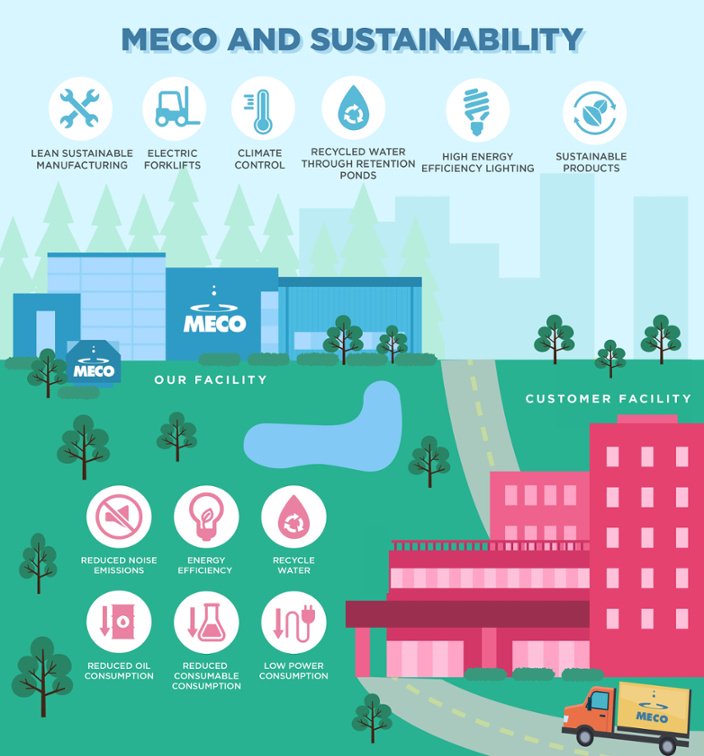 MULTIPLE WAYS YOU GIVE BACK TO THE ENVIRONMENT WHEN YOU USE MECO TECHNOLOGY
How Our Sustainable Products Create Better Solutions for Our Customers
At MECO, we recognize the threat of water scarcity and the impact purifying water can have on the environment. That's why everything we do reflects our sense of responsibility to the industries, communities, and people we serve. MECO products are built with sustainability in mind so that our customers purify water responsibly and in a sustainable manner. MECO products help our customers:
Reduce Energy and Power Consumption – MECO machines cut energy consumption lowering our customers' power consumption.
Use Less Oil and Reduce Noise Emission – Our proprietary technology such as our GII Centurbo™ compressor
● Lowers energy consumption
● Reduces oil usage
● Lowers noise emission
Recycle Water and Use Fewer Consumables – Our patented systems, such as the MASTERfit™ system, uses less feedwater and pretreatment consumables, and rejects less water to drain.
Where Do We Make These Products? In Our Environmentally Friendly Manufacturing Facility
We practice sustainable, lean manufacturing, which means we create more value for our customers using fewer resources. Our ultimate goal is to provide perfect value through a creation process that produces zero waste.
Our manufacturing facility is more than a state-of-the-art home for our manufacturing operations it's the ultimate expression of our commitment to our customers, employees and environment. Our facility was designed to maximize safety, productivity, functionality and overall quality for our customers. The 100,000 square foot facility combines the most advanced technology with environmentally friendly practices in an ideal setting surrounded by indigenous trees, plants and water habitats to support local wildlife. We are situated on the Tammany Trace, a wildlife conservation area that spans 28 miles and gives employees access to a greater use of the outdoors. We don't just encourage sustainability and positive impact, we live it.
Every detail is built around lean manufacturing practices with sustainability in mind:
Recycled Water through Retention Ponds – Through the use of retention ponds on our manufacturing facility grounds, we have eliminated the discharge of process water to the state and saved millions of gallons of water consumption from the local aquifer.
High Energy Efficiency Lighting – Our facility uses automated high-efficiency lighting that produces more illumination while using less electricity.
Electric Forklifts – Electric forklifts do the heavy lifting with less noise, reduced maintenance, zero tailpipe emissions and no need for fuel.
Climate Control – The climate control system in our machine shop is designed to improve quality and reliability all resulting in increased productivity.
With water scarcity becoming more of a reality, sustainable water practices have never been more important for the environment and our future. Sustainable water practices can be exercised on an individual level, but they should be prioritized on the industrial front as well. That's why MECO has been dedicated to providing sustainable water purification technologies for 90 years and counting. It's more than a commitment to us, it's a mindset and everything we do. Our innovative technologies make water accessible now and for years to come.
Discover Where Tomorrow Gets Its Water.™