MECO UF system used to produce vital ingredient for Flu vaccine: Water.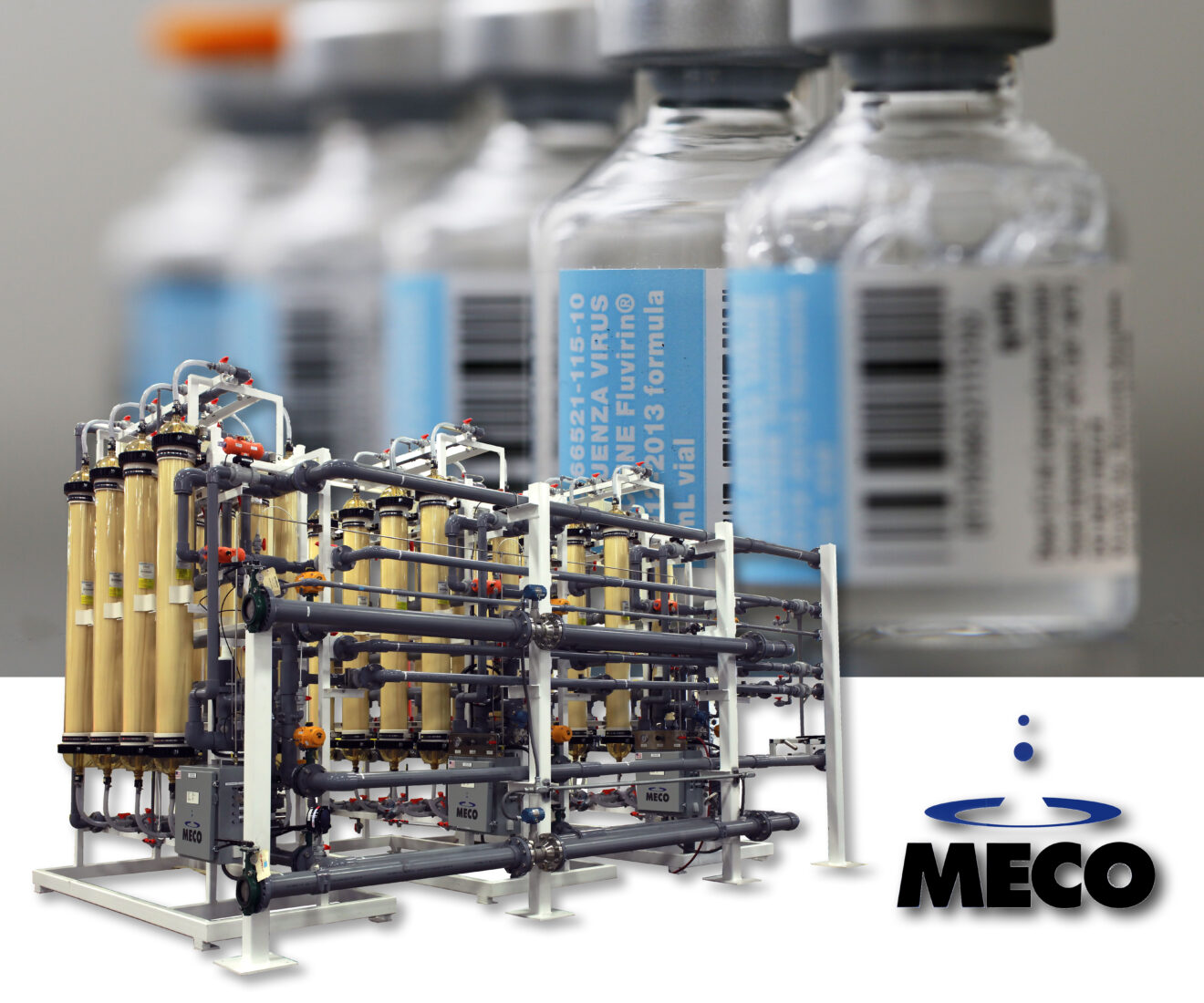 A major pharmaceutical company uses the MECO Ultrafiltration system to produce vital ingredient in flu vaccines.
Situation
The client wanted a comprehensive, customized solution from one source for their WFI (Water For Injection) requirements, a system that could tackle the challenging feedwater supply and produce water with an exceptionally low bioburden. They were also concerned about water quality fluctuations. In addition, they wanted a system that would supply WFI all the time.
Solution
MECO's Ultrafiltration system utilizes the efficiency of UF combined with Vapor Compression to eliminate some less valuable unit operations and substantially improve the water quality early in the water purification process. Because the ultrafiltration units are chlorine tolerant and automatically backwashed on a regular interval, they are far less susceptible to fouling and easier to clean than traditional Reverse Osmosis (RO) membranes. In addition, they use less energy and conserve more water.
Benefit
MECO's unique design provided the highest quality of water throughout the plant by removing various constituents before they entered the system. Eliminating traditional media filters, cartridge filters, and the intermediate storage tank saved the client the maintenance and downtime associated with filter replacement and fouling. In addition, this unique design reduced installation costs, and the operation and maintenance of the plant.
Flu vaccination is one of the most effective public health interventions ever implemented. Use of currently available seasonal influenza vaccines have been calculated to have helped save more than 8 million lives annually worldwide, translating to one person saved every five seconds.
MECO is a world leader in the design and construction of engineered products for water purification serving industries where water is considered a critical utility. MECO designs and constructs proprietary machinery and systems for the biopharmaceutical industry where ultrapure water is the primary ingredient in the manufacture of drugs and medical devices. The company manufactures a broad base of desalination technologies to the offshore oil and gas industry for use on platforms, drilling rigs and remote locations. Armed forces of the United States and other countries have used MECO products since World War II.