Pure Water For Today and Tomorrow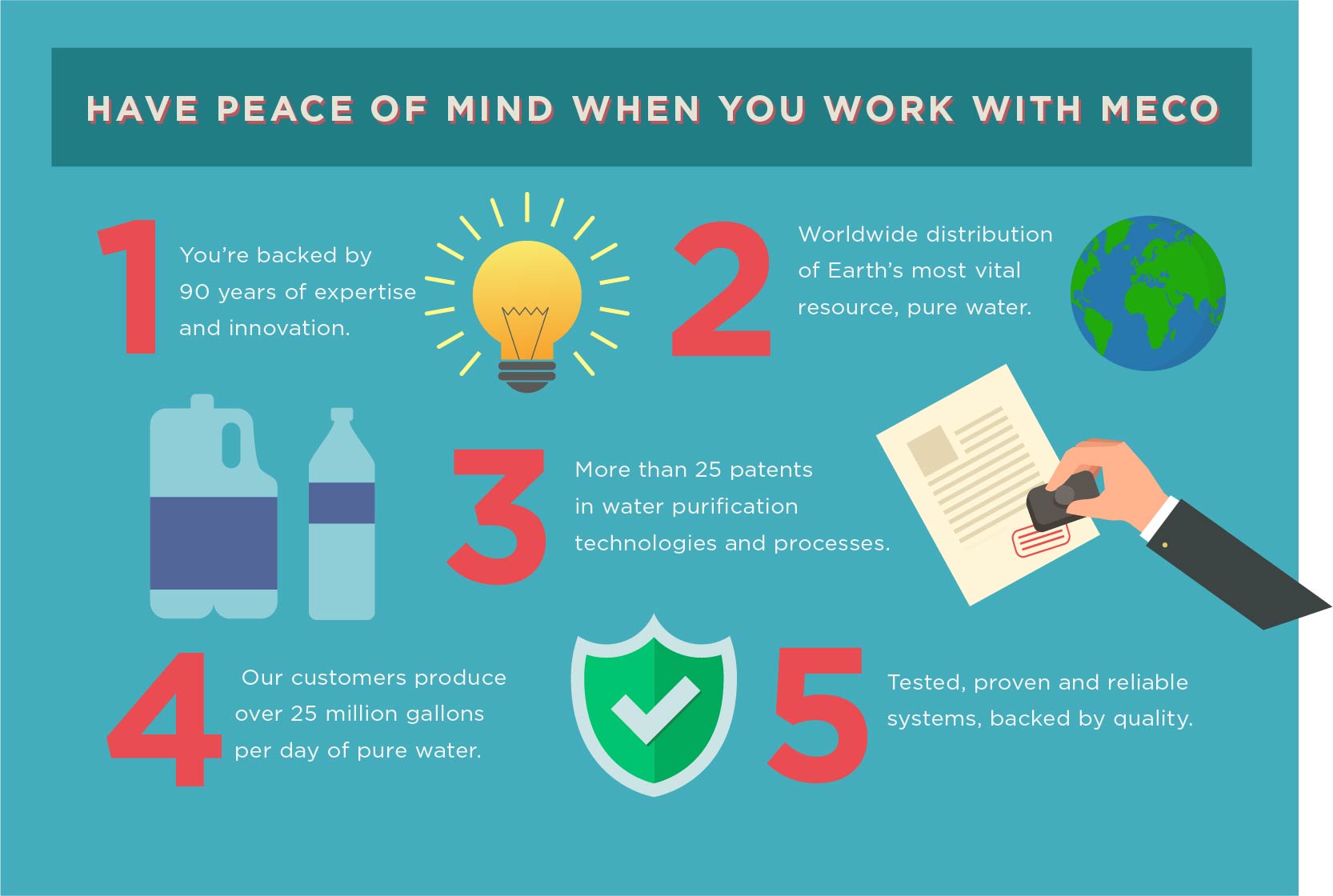 PURE WATER FOR TODAY AND TOMORROW
World Water Day 2018
You're backed by 90 years of expertise and innovation.
90 years in business doesn't just mean we've been in operation for that long. 90 years in business means we've consistently innovated, expanded and improved. Since our first patent in 1939 to our 25th patent in 2011, we've offered the most innovative and sustainable solutions for our diverse clients' pure water needs.
Worldwide distribution of Earth's most vital resource: Pure Water.
With offices strategically located worldwide, we provide pure water to a variety of industries. From Sakhalin Island, Russia to Limerick, Ireland, and from Singapore to Spain, West Africa, South and Central America, the USA and Canada, MECO systems are producing pure water with a wide scope in the biopharmaceutical, food and beverage, industrial, oil and gas, and defense industries.
More than 25 patents in water purification technologies and processes.
With proprietary technologies and environmentally friendly practices, we are able to deliver pure water while drastically lowering energy consumption, oil usage and noise emission.
Our customers produce over 25 million gallons per day of pure water.
We have successfully installed thousands of water purification machines across the globe. MECO products are built to use less feedwater intake and reject less water to drain all the while operating efficiently and lowering energy costs. This helps our customers use water responsibly and in a sustainable manner.
Tested, proven and reliable systems backed by quality.
Our products are built to the highest quality, exceeding customer and industry requirements.  In fact, many MECO systems that were designed and installed over 30 years ago are still in operation today. This is a testament to our craftsmanship and attention to quality and detail.  Our legacy of leadership is the result of our commitment to providing quality, reliable and innovative systems that ensure Pure Water for Today and Tomorrow.
Discover Where Tomorrow Gets Its Water.™