Ways to Improve Your Community's Disaster Preparedness


During 2017, the U.S. experienced the highest number of billion-dollar disasters since 2011, according to NOAA. A total of 16 separate disasters, including three tropical cyclones, eight severe storms, two inland floods, a crop freeze, drought, and wildfire, brought communities around the country to a grinding halt. The cumulative cost of these catastrophes exceeded $300 billion, a new U.S.  annual record, and the damage from Hurricanes Harvey, Irma and Maria alone were responsible for approximately $265.0 billion of that.
It doesn't appear that the frequency of large-scale, billion-dollar disasters is going to slow down anytime soon. Hurricane Florence forced more than one million people to flee the east coast this month while storms in the northeast Pacific Ocean have generated the most "accumulated cyclone energy" on record through the first week September, according to atmospheric science researcher Phil Klotzbach in an interview with NBC. Tropical depressions are lining up in the Atlantic and the Gulf, and wildfires in the west spawned a devastating fire tornado with 143 mph winds.
In the face of so many threats, resilient communities are those prepared ahead of time for the worst case scenario.

Cultivate a disaster mitigation mindset
Disasters may be unpredictable, but responses to disasters shouldn't be. While it's impossible to anticipate every potential hazard, FEMA's emergency management training guide cautions against relying solely on improvisation to respond to disasters as "improvising and implementing response actions takes more time than implementing preplanned actions—and time is usually very limited in an emergency."
Developing a formalized but flexible hazard mitigation plan and stocking emergency supplies and equipment has the potential to save lives, protect property, and reduce costs associated with disaster recovery. For instance, having an emergency water supply system in place before a disaster ensures all members of a community, including the most vulnerable, have immediate access to adequate water supplies while also eliminating the exorbitant cost of sourcing large volumes of water direct.
View Our Water Purification Systems
Engage the community in emergency preparedness
In an interview with Futurity on how resilient communities handle disasters, Laura A. Bakkensen, assistant professor in the School of Government and Public Policy at the University of Arizona, addressed both the benefits of preparedness and the dilemma of indifference. "Research has shown that certain advanced-planning strategies can, in essence, pay for themselves by reducing the magnitude of disaster damages," she stated. "However, my current research in flooding shows that people can sometimes forget about disaster risk until a disaster strikes."
Resilience depends on knowledge. It's difficult to respond effectively to a situation you've never allowed yourself to consider, yet very few people want to think about worst case scenarios. In some cases, planning ahead even encounters resistance as some may feel that resources could be better used in other areas of government. Educating and engaging the community in emergency preparedness offers people an opportunity to understand vulnerabilities and risks as well as the benefits of planning ahead.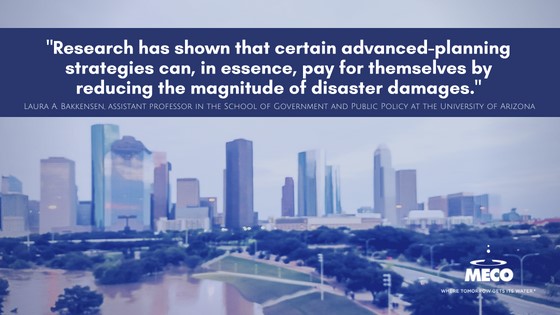 Develop mutual aid and assistance agreements
When disaster befalls a community, it rarely leaves anyone unscathed. Local NGOs and aid organizations as well as community-based emergency responders and, in many cases, their equipment and materials are also impacted. Mutual Aid and Assistance Agreements between agencies, organizations, and jurisdictions provide a mechanism for the immediate deployment of emergency support before, during, and after a crisis.
While mutual aid agreements provide several self-evident advantages to besieged communities, they offer a number of less obvious benefits. Coordinating with other communities, regions, and organizations encourages the sharing of best practices and gives participants more opportunities to rehearse responses more frequently.

Facilitate rapid response and recovery
Developing a hazard mitigation plan, engaging and educating the community about disaster response, and forging mutual aid agreements all facilitate more rapid response and recovery in the event of a crisis and improve your community's disaster preparedness. Perhaps the most critical need in the aftermath of a disaster is the distribution of clean water. While humans can survive nearly a month without food, less than a week without water can be fatal.
MECO equips communities to respond to this basic need quickly and reliably through the installation of water purification systems. Our state-of-the-art reverse osmosis systems are ideal for disaster relief. They lead the industry in terms of output, efficiency, longevity, and lack of maintenance. Whether you're preparing for emergency disaster relief for a community or a business, MECO offers the best water purification systems on the market. A broad product line of technology and extensive experience enables MECO to bring valuable and sustainable solutions to our clients.
Have questions about innovative and efficient water purification solutions?