THE BENEFITS OF MECO smartANALYTICS®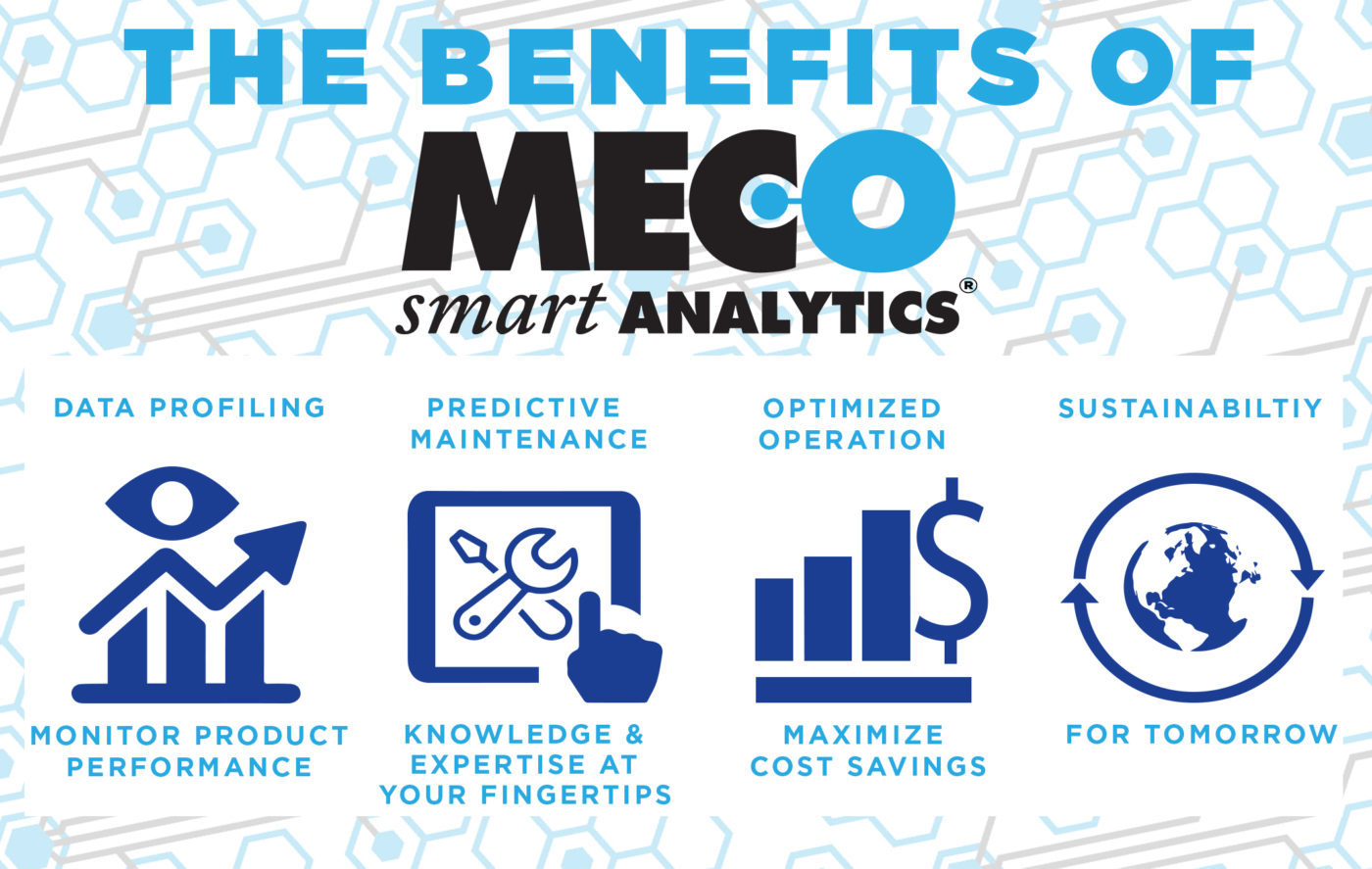 THE BENEFITS OF MECO smartANALYTICS®
Water purification is a critical and complex process in manufacturing operations that is accompanied by substantial costs and potential impacts to the environment. Simultaneously, every water purification plant has the potential to generate an untapped amount of data. If used and analyzed properly, this data and analysis can improve operations in a number of ways. MECO smartANALYTICS® was developed to tap into this data to ensure our customers' water plants are operating at maximum efficiency and in the most reliable manner. You will have peace of mind with smartANALYTICS®, because insights into your water have never been smarter.
MONITOR PRODUCT PERFORMANCE
MECO smartANALYTICS® utilizes data profiling to benchmark a multitude of inputs, including flow rates, temperatures, pressures, vibrations and speeds. These inputs are recorded thousands of times a day, every day, 365 days a year. Using the constant data collection, our program profiles the performance of your water plant against its own operating history, our performance standard and a larger population of identical or similar operating plants in the field. Knowing how your plant is supposed to operate means we know what to expect. Our expert team, whose sole focus is your well-being, will then provide you with evaluations and reports. With our data profiling, it will feel like you have a MECO expert in your plant!
KNOWLEDGE AND EXPERTISE AT YOUR FINGERTIPS
Online diagnostics analyze input values in real time, and deviations from the expected norm are flagged for evaluation. We want to identify any issues before they become a problem, and we want to schedule routine maintenance before it is due. Slight variations in measurements that may be unfamiliar or appear insignificant can have larger or longer implications. Proactive scheduling of consumable supplies and predictive maintenance activities keeps your plant running efficiently without experiencing downtime.
MAXIMIZE COST SAVINGS
Predictive maintenance helps you to avoid unscheduled shutdowns and production loss, which in turn saves you money. MECO smartANALYTICS® also reduces operating costs by recommending the most efficient operating parameters. Utilities consumption makes up a significant proportion of the operating costs of your water system. The data profiling capabilities of smartANALYTICS® allows MECO experts to identify opportunities for improving the efficiency of operation, thus translating into savings in utilities, consumables, maintenance, and elsewhere.
SUSTAINABILITY FOR TOMORROW
In order to maximize your systems efficiency and reduce its impact on the environment, it is important to react to change. As production flowrates or feed water quality changes, we will advise on best practices to minimize your intake and outfall discharges. MECO smartANALYTICS® will reduce your water footprint by optimizing reject rates, backwash and rinse cycles. Our program will also minimize your energy consumption with best practices recommendations which closely match production to demand, smoothing out peaks and minimizing starting and stopping. In addition to water and energy conservation, best practices also seek to minimize the use of consumables, replacement filters and membranes. You can give back to the environment with MECO smartANALYTICS® by purifying water in a responsible manner.
SMARTER BUSINESS. SMARTER WATER.
With offices in North America, Asia and Europe, our experts are on call twenty four hours a day. Water purification is not a sideline for MECO, it is all we do and all we have done for the past 90 years. The smartANALYTICS® program brings MECO's dedication and expertise into your water plant.