JIMMY MCQUARY: A LEGACY OF QUALITY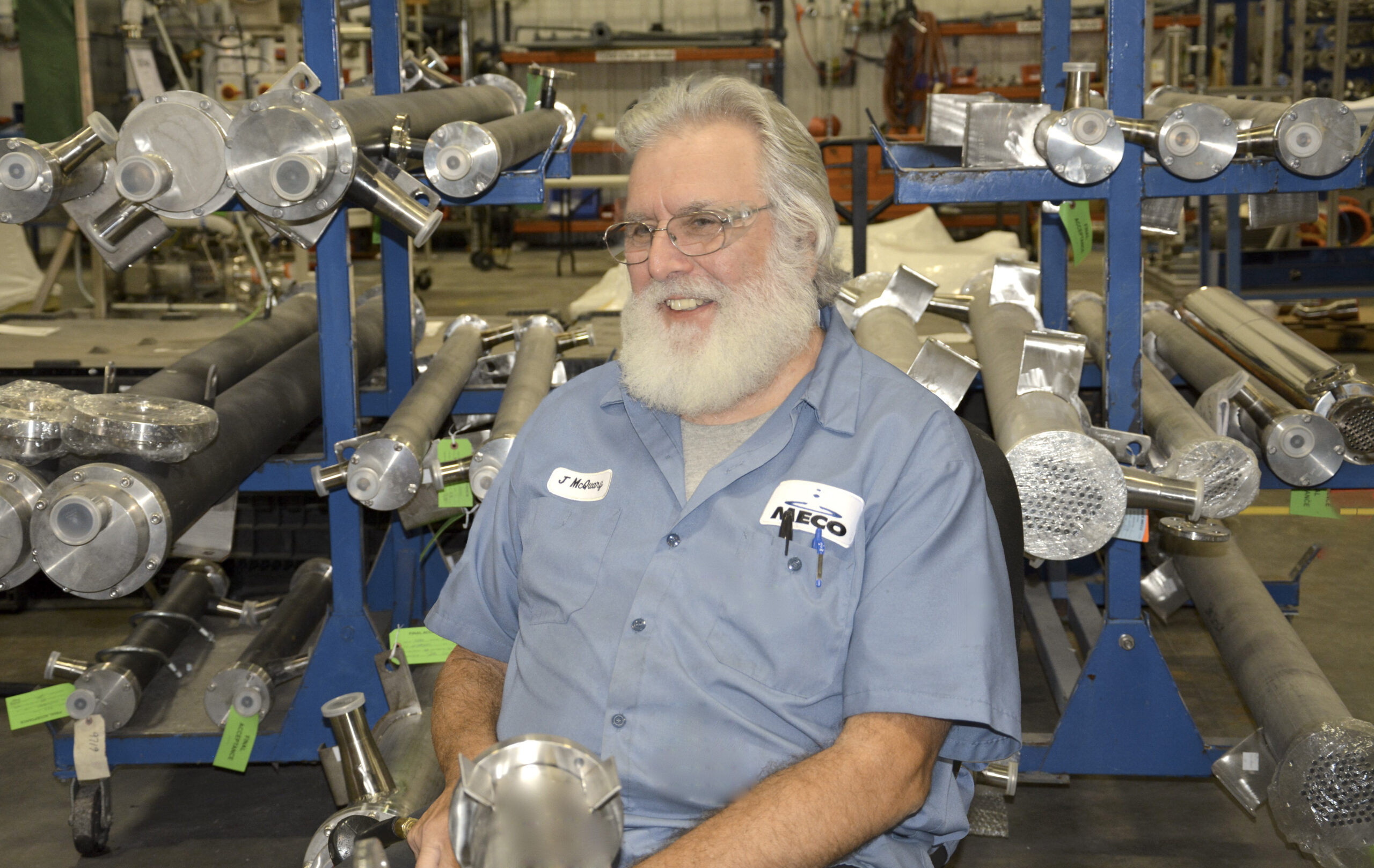 Quality people make quality products. When looking at MECO, and our legacy of producing the highest quality products for over 90 years, Jimmy McQuary is responsible for this legacy.
Jimmy McQuary has been working for MECO for half a century. His dedication of hard work is one to admire. His impact has shaped the culture of MECO and our relentless pursuit to make the highest quality products for our customers.
TAKE PRIDE IN WHAT YOU DO
As the Insulation Team Leader based in MECO's Mandeville, Louisiana headquarters, Jimmy has been building MECO equipment for 50 years. He's the guy who knows everybody and greets you with a friendly smile and wave, anytime you walk past his station.
Jimmy began working at MECO in 1972. He was originally hired on as a helper, but then quickly moved up to tube rolling, testing, and insulation. Jimmy tried welding with his friend Austin Bodden Sr., another life-long MECO craftsman, but realized welding wasn't for him. It was in the tube rolling, hydrotesting, and insulation fields that Jimmy found his true calling.
Jimmy's mentor, Joe Litz, a hardened navy man, taught Jimmy everything that he knows today. Like his mentor, Jimmy has passed these high standards on to the younger generations in the workforce.
Taking pride in your work is something that Jimmy remembers the founder of MECO, John Pottharst, instilled in him those first years at MECO. It has stuck with him for decades and a motto he continues to pass on.
"You have to take pride in what you do. Our machines make life-saving drugs that our families might need one day. So everything about these machines has to be right," Jimmy says.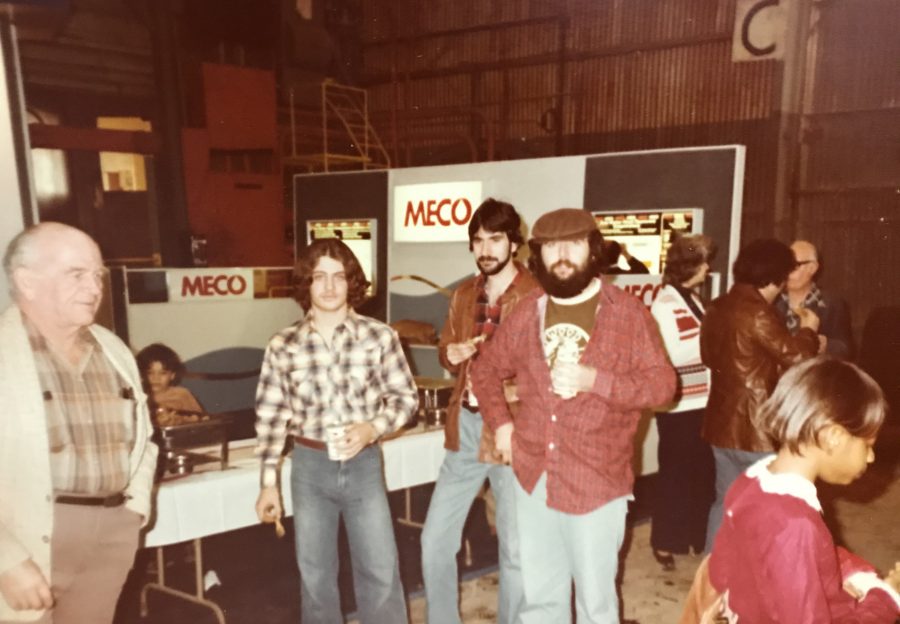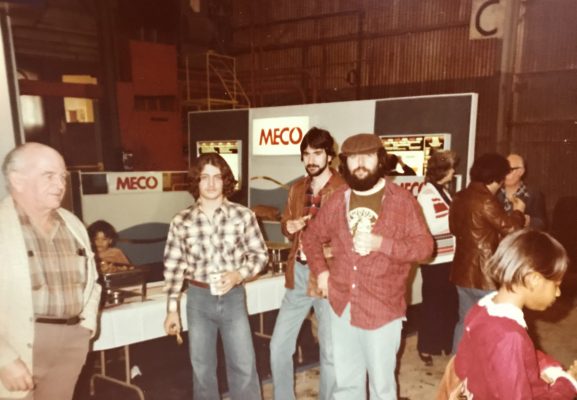 Pictured (center): Jimmy McQuary in the MECO facility circa 1980s.
UNWAVERING LOYALTY
Both Jimmy McQuary and Austin Bodden Sr. can testify that time is fleeting. Time and loyalty go hand in hand and these men are the definition of loyal. These MECO men have worked alongside one another for half a century. Jimmy remembers Austin taking him under his wing and getting Jimmy his first promotion.
The machines have changed since 1972, but Jimmy's loyalty to MECO has not. For years working at the MECO facility on the Industrial Canal, Jimmy would work in the sun and rain. He was always the last man to leave work and would close the facility at night.
After Hurricane Katrina in 2005, MECO's manufacturing facility was hit hard. Many of MECO's employees took refuge in Houston, but a few people stayed behind to clean up. Jimmy was a part of this crew. He remembers the smell of the sludge inside the facility created by the mass flooding. The stench alone would burn your facial hair off. For months after the storm, Jimmy worked alongside Austin and the skeleton crew, welding, tube rolling, and hydrotesting MECO components to keep up with production demands. Staying behind wasn't a question for these MECO men, they were going to do whatever it took to get the job done right and keep MECO going.
A FAMILY BUSINESS
Over the years, Jimmy has mentored dozens of MECO employees. He treats his MECO colleagues like they are family. He has seen countless people make careers at MECO and bring their families in. He remembers when George Gsell, current President of MECO, started working in the plant for Joe St. Phillip.
"It means something to your employees when the President of the company knows you by name and intentionally comes by to say hello to you. John Pottharst would be proud of where we are with MECO today. The leadership has made an incredible impact on this place," says Jimmy.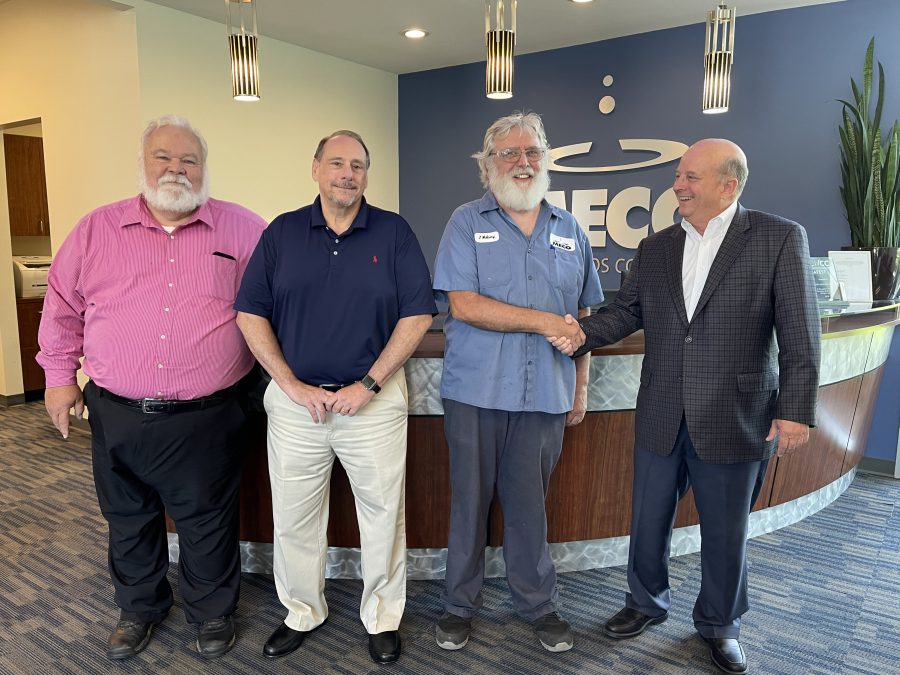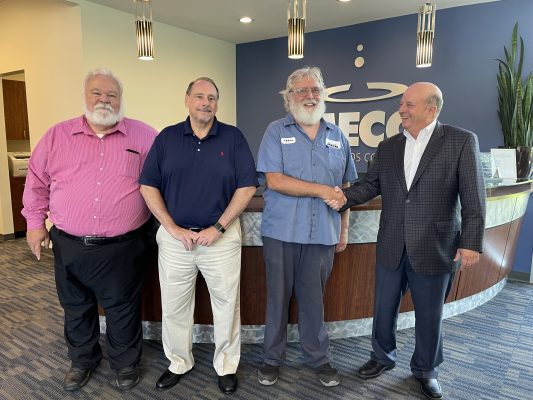 Pictured (from left to right): Kim Klein, MECO VP Of Engineering; Reano Siragusa, MECO VP and CFO; Jimmy McQuary, Insulation Team Leader; George Gsell, MECO President.
Fifty years ago, Jimmy's brother-in-law worked for MECO and convinced Jimmy to move from St. Louis, MO to New Orleans, LA for a job at MECO. He has no regrets getting off that Greyhound bus because this is where he began his career, met his wife, started his family, and is now watching his grandchildren grow up.
One in a million becomes the core of a culture and it's people like Jimmy McQuary that make the MECO difference.