Austin Bodden Sr.: Fifty Five Years of Commitment

Austin Bodden Sr., Senior Fabricator
It's no stretch to say that the best people make the best products. It's a fact. Austin Bodden Sr. is a perfect example. He's been making MECO components for over half a century. The machines have changed, but Austin's priorities haven't. Some people don't compromise. A few people pass the highest standards of their craft on to generations. One in a million becomes the core of a culture. MECO begins with people like Austin Bodden Sr., Senior Fabricator.
Mastering an Art
Few people can call themselves a true master of their craft. Austin Bodden, Sr. can. A fabricator based in MECO's Mandeville, Louisiana headquarters, Austin has been building MECO equipment for 55 years. He's the guy who makes things happen when no one else can.
Austin began working at MECO at the age of 20 and now in his 70's, he's seen and done it all. No matter how difficult the job, if he tells people he can do it, they trust him, because he always delivers. His resourcefulness is critical for companies like MECO, which are constantly innovating and creating new technologies. When you're working for an industry leader known for quality craftsmanship, you have to be able to deliver every time. That's Austin's specialty.
"We have to learn as we go sometimes, but I learn fast. If I put my mind to something, I can usually do it, Austin says."
Austin's expertise isn't limited to MECO machine components. In his spare time, he hones in his skills on ornate belt buckles, grills and other recreational projects. His family calls him MacGyver because he can usually recreate something after simply examining it – a talent that has served him well throughout his career.
Passing Down a Craft
Over the years, Austin has mentored dozens of MECO employees in the art of welding, including his son, who has worked for MECO for over two decades. Teaching others is one of his greatest passions. You'll often find Austin on the manufacturing floor after hours, helping the new guys.
"Sometimes I can't teach the things I know. The guys just have to do it to figure it out. So, I'll take them by the hand and walk them through the technique. It takes time and patience, but it helps them learn," he explains.
Austin treats his MECO colleagues like family, and they all love and respect him for it. It's no wonder the average employee tenure at MECO is 25 years. Austin believes it's the comradery that makes people stay for so long, but his co-workers will tell you it's people like Austin.
"We always look out for each other. In many other places, people see someone doing something wrong but won't say anything. But here, we teach each other and hold each other accountable," Austin says.
Unwavering Dedication
They say dedication is measured by time and tested by tragedy. When Hurricane Katrina left a wave of destruction across the Gulf South in 2005, MECO's manufacturing facility in New Orleans was hit hard. Many of MECO's employees sought refuge at the company's temporary Houston headquarters, but a few people remained. Austin was one of them. For months after the storm, Austin worked with a skeleton crew, fabricating MECO parts to keep up with production demands. For Austin, staying behind wasn't a difficult decision. He does whatever it takes. It's because of dedicated people like him that MECO was able to get back on its feet after the storm, and thrive for years to come.
Even now, in his 70's, Austin remains committed to his work and is a daily inspiration to his colleagues.
"Every day I get up, and I thank the Lord for the opportunities he has given me. As long as I still have my mind and am able to do my job, I will be here," he says.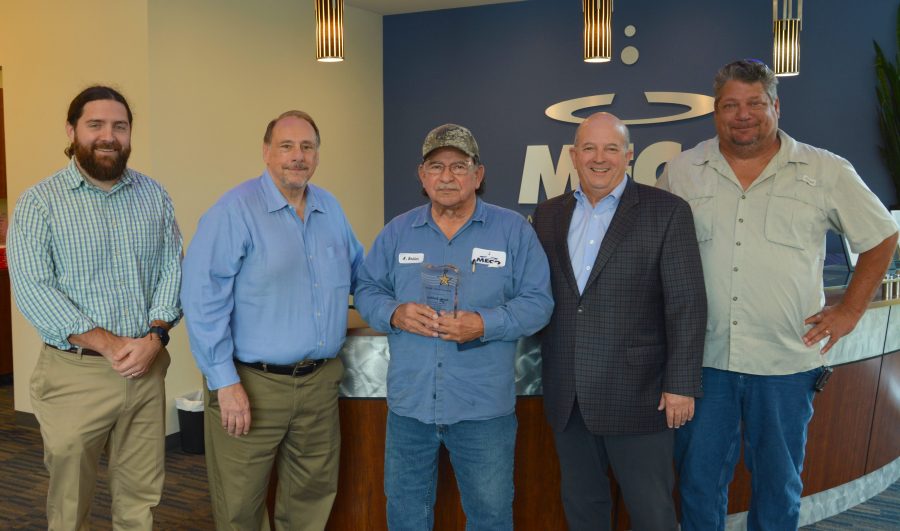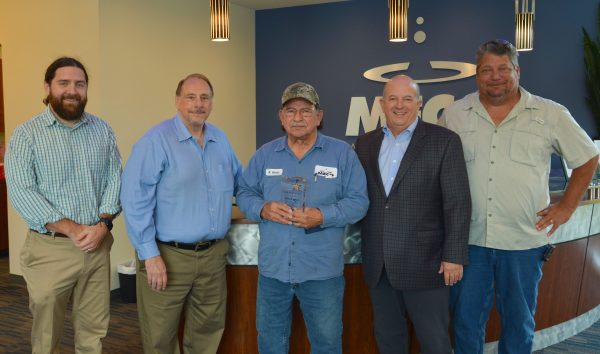 Pictured (from left to right): Matthew Mondello, MECO Manufacturing Manager; Reano Siragusa, MECO VP and CFO; Austin Bodden Sr., MECO Senior Fabricator; George Gsell, MECO President; and Pete Gadel, MECO Fabrication Foreman.