When contaminated water leads to potable water shortages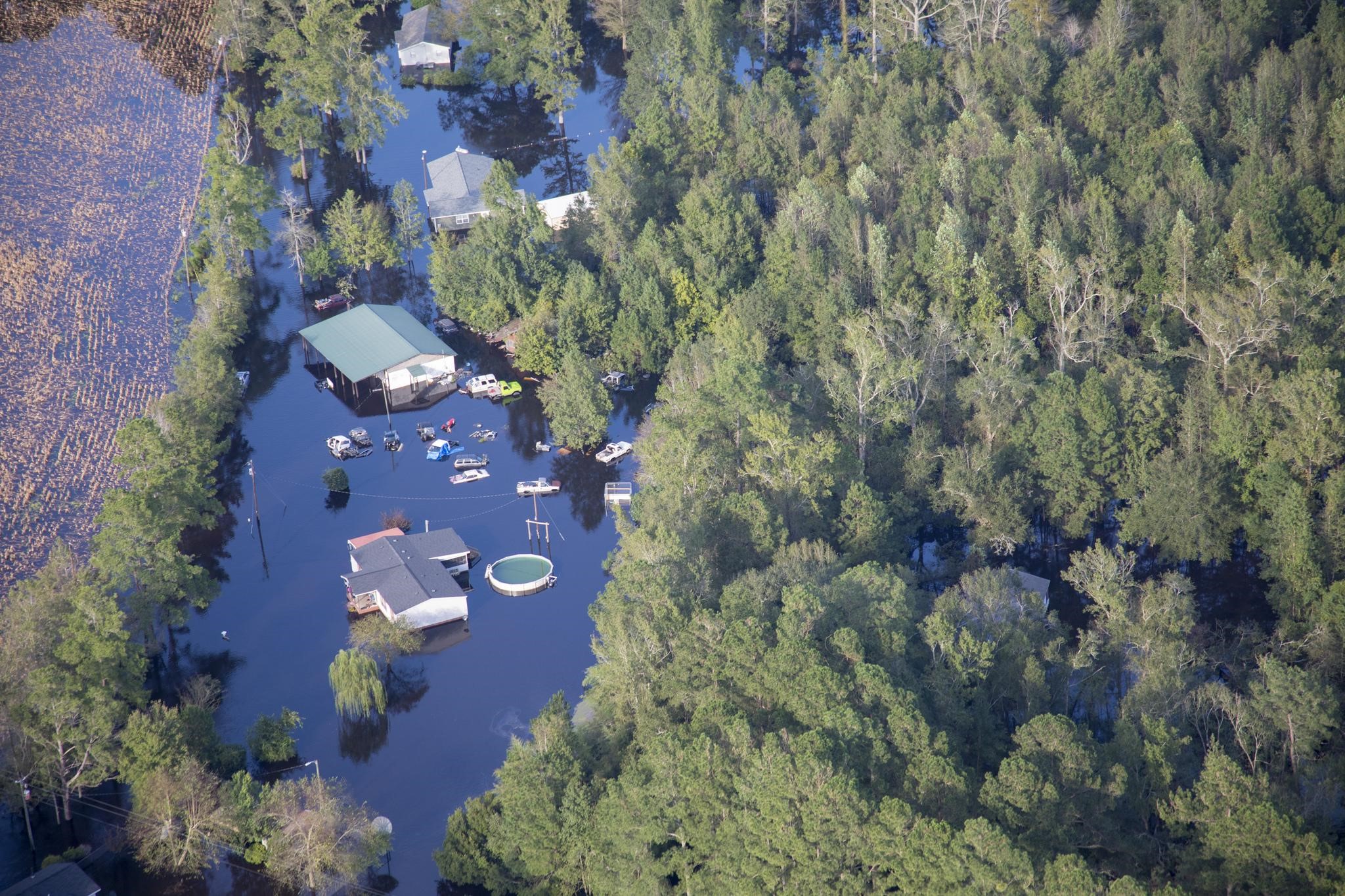 The impact of 2018's hurricane season on local water supplies
Photo Credit: Homes and businesses are surrounded by water flowing out of the Cape Fear River in the eastern part of North Carolina Sept. 17, 2018, in the aftermath of Hurricane Florence. Helicopters take off daily, searching the flooded areas for people who may be in distress. (U.S. Army Photo by Staff Sgt. Mary Junell)
When Hurricane Michael tore through Florida's panhandle, the vicious category 4 hurricane toppled the water tower in Mexico Beach. Homes were ravaged and toilets spewed raw sewerage. Residents were forced to bide their time and wait for aid and supplies to arrive from out-of-state.
Nearby, Bay Medical Center in Panama City was still running on partial electricity provided by generators, but the facility's toilets were filling up, and they had no water. The governor had ordered all of the patients to be evacuated, but the process was expected to take 48 hours. In the meantime, injured, frightened residents were still arriving in the emergency room only to be turned away due to the lack of resources.
A compromised water supply is to be expected in the case of such a strong storm. However, Hurricane Florence, much weaker in intensity, created an even larger-scale water supply crisis across eastern North Carolina.
As Florence dropped record-breaking amounts of rainfall, rising water levels flooded lagoons full of hog waste, facilities harboring dead livestock, raw sewage from treatment plants, and coal ash ponds, forcing potentially dangerous bacteria and viruses into the drinking water supply. More than 23 drinking water systems temporarily halted operations, and boil water advisories were in effect throughout the state.
Is your community risk-aware and risk prepared?
Statistically, the most resilient communities in the aftermath of a natural disaster are those that anticipate worst-case scenarios and have a plan in place well ahead of time. Attempting to respond to an emergency spontaneously requires far more resources and takes significantly more time than following through on a pre-planned strategy.
Working with community members to develop a hazard mitigation plan and to ensure sufficient emergency supplies and equipment are on hand in the event of a catastrophe can save lives and reduce the costs of disaster recovery. In particular, communities should be prepared for the loss of drinking water systems. Whether water supplies are destroyed by high winds or overrun by contaminants, a compromised water supply is a matter of life and death and can't be left to chance.
The Centers for Disease Control (CDC) recommends storing at minimum three days' supply of water per person in the aftermath of a disaster though that minimum would hardly suffice in the wake of a storm like Hurricanes Michael or Florence. That's at least one gallon of water each day per person or pet – more during warm weather and for those who are sick or pregnant.
In North Carolina, at least 1.4 million residents were confronted with a drinking water shortage after Hurricane Florence. The municipalities had few operational water treatment systems and no way to access communities cut off by floodwaters, making it impossible to deliver water even if enough could be sourced from elsewhere. In situations like this, a water purification system makes sense.
Reverse osmosis: a reliable solution for emergency water management
Reverse osmosis is among the most reliable solutions for producing drinking water during natural disasters. This expedient, energy-efficient water purification system is capable of producing clean, potable drinking water from practically any water source, including rivers, lakes, flood waters, or wells. MECO's MMRO-LT system can be customized to meet the needs of any municipality, and varying system capacities are available.
For coastal communities faced with the certainty of stronger storms are more frequent flooding, reverse osmosis is an efficient, practical, and cost-effective method for providing clean drinking water in the aftermath of disasters. Investing in a water purification device for your community provides peace of mind for officials and residents. To learn more, contact MECO, a solution and a partner in addressing the need for clean drinking water during your most difficult times.