MECO Historical Trivia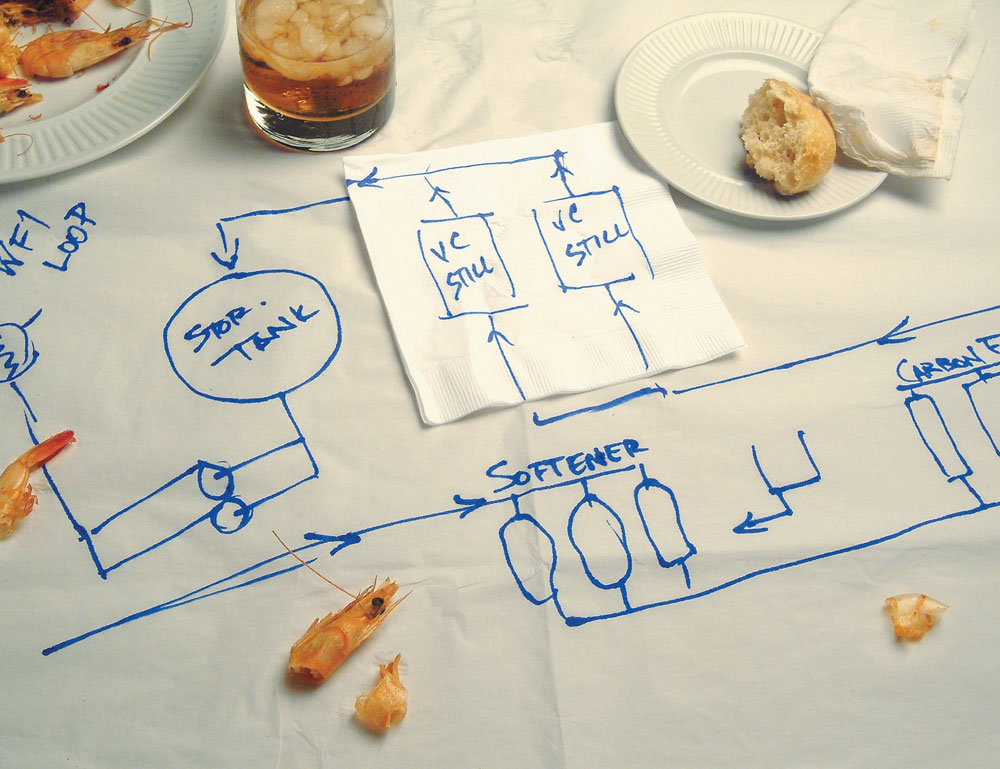 12 Trivial Facts You Didn't Know About The History of MECO and Mardi Gras in New Orleans, A Lagniappe Read.
There have been many references for the city of New Orleans such as the Crescent City, the Big Easy or NOLA, but none can compare to the name that MECO calls it, which is home. New Orleans has been the home for MECO for nearly 90 years. A colorful city that is known for its history, cuisine, culture and music but most famously for its celebration of Mardi Gras. To celebrate this Fat Tuesday, we have put together an article of trivial facts about MECO and Mardi Gas.
MECO's History in New Orleans
MECO, an abbreviation for Mechanical Equipment Company, Inc. got its start in downtown New Orleans on Carondelet Street in 1928. Originally, MECO was founded as a distributor of pumps and engines. In 1939 John Pottharst, MECO's founder and New Orleans native, patented the world's most efficient method of desalinating sea water, Vapor Compression.
Mardi Gras History in New Orleans
"Though early French settlers brought the tradition of Mardi Gras to Louisiana at the end of the 17th century, Spanish governors of the province later banned the celebrations. After Louisiana became part of the United States in 1803, New Orleanians managed to convince the city council to lift the ban on wearing masks and partying in the streets. The city's new Mardi Gras tradition began in 1827 when the group of students, inspired by their experiences studying in Paris, donned masks and jester costumes and staged their own Fat Tuesday festivities. The parties grew more and more popular, and in 1833 a rich plantation owner named Bernard Xavier de Marigny de Mandeville raised money to fund an official Mardi Gras celebration. After rowdy revelers began to get violent during the 1850s, a secret society called the Mistick Krewe of Comus staged the first large-scale, well-organized Mardi Gras parade in 1857." 2
3. MECO and WWII
In 1941, MECO's first of hundreds of desalination machines were used in WWII to help support the efforts of freedom by providing soldiers with drinking water, where fresh water was scarce. These MECO units were shipped out of the same port of New Orleans as the brave soldiers fighting in WWII.
4. Mardi Gras and Carnival
"Mardi Gras and Carnival are the same celebration. Though Mardi Gras technically refers only to Fat Tuesday, the Mardi Gras season actually begins on Epiphany, a Christian holiday celebrated on January 6 that is otherwise known as Three Kings Day or the Twelfth Day of Christmas. In Brazil and many other countries, this period between Epiphany and Fat Tuesday is known as Carnival. Whichever name you prefer to use, the revelries of Mardi Gras last until midnight tonight, when Ash Wednesday ushers in 40 days of Lent." 1
5. MECO: Where Tomorrow Gets Its Water™.
It's more than a tagline or slogan, it's a MECO promise to our customers, the environment and industries we serve around the world. Where Tomorrow Gets Its Water™ is a commitment to provide purified water using the most innovative and efficient technologies. We strive to ensure that our water purification solutions are clean and responsive to environmental priorities. We understand that there is only one Earth. We are aligned with our customers in our commitment to sustainability.
6. Krewes 
"Within two decades after the French explorer Bienville LeMoyne founded New Orleans in 1718, the city's annual celebrations of Carnival had become an annual event, complete with masked balls and other festivities. Parades commemorating Mardi Gras (the last day of Carnival and the day before Ash Wednesday, the first day of Lent) officially began in 1838. Today, more than 70 krewes parade through New Orleans on Mardi Gras, after celebrating the two weeks of Carnival with invitation-only balls and supper dances." 3
7. MECO Krewe
To be asked to be a part of a krewe in a Mardi Gras parade is an honor and a big task to take on. About a dozen MECO employees have been in or have been a part of different krewes for Mardi Gras throughout their lifetime. One employee in particular who stands out the most is New Orleans native, Will Brown, who is a Senior Applications Engineer for MECO. Will has been in the Krewe of Thoth parade for over 15 years and still counting.
8. Rex, King of Carnival
"Among the most famous krewes is the Krewe of Rex, founded in 1872. That year, the Grand Duke Alexis Romanov Alexandrovitch, brother to the heir apparent to the Russian throne, accepted an invitation to attend Mardi Gras festivities in New Orleans. Prominent city businessmen organized the visit as a way of attracting tourism and business to the city after the Civil War. Forming a new krewe of prominent citizens, they designated the krewe's leader for the year as Rex (Latin for king). Officially called the School of Design, the krewe is more commonly known as the Krewe of Rex. Every year since, a prominent person has been chosen to be Rex, that year's King of Carnival (the Grand Duke was the first one) and given the symbolic key to the city by the mayor." 3
9. Bead throwing
"The true meaning of the famous Mardi Gras beads begins with their traditional colors, which we also owe to the Russian Grand Duke Alexis. During his visit in 1872, the newly founded Krewe of Rex chose the colors of the duke's royal house for the beads that krewe members would throw from their parade float into the crowds of Mardi Gras revelers. Later, they assigned meaning to each color: Purple stood for justice, green for faith and gold for power. The idea was to toss the beads to those in the crowd who exhibited these traits; the people who caught them were said to get good luck for the coming year. Though the beads were originally glass, nowadays they're made of plastic, and are one of the most popular Mardi Gras traditions." 3
10. Zulu coconuts
 "Also among the most coveted of Mardi Gras parade "throws" are Zulu coconuts, the round, painted, glittery orbs thrown out by members of the Zulu Social Aid and Pleasure Club. One of the oldest traditionally African-American krewes, Zulu held its first parade in 1909. The very next year, as the historical record shows, they began tossing coconuts to members of the crowd. Originally, the coconuts were left in their natural brown, hairy state, but a tradition soon began of painting them and decorating them with glitter. Nowadays, Zulu coconuts are handed into the crowd rather than thrown, to avoid injuries (and lawsuits)." 3
11. Flambeaux
"The blazing torches lighting the way for parade-goers during nighttime Mardi Gras festivities are called flambeaux (French for torch), and they date back to a custom established by the original Mardi Gras krewe, Comus. In the mid-19th century, the torches were a necessity due to the lack of sufficient street lighting. The original flambeaux carriers were slaves and free men of color, and their torches were probably made with shredded rope soaked in pitch and set ablaze. Crowds lining the parade route would toss coins to the flambeaux carriers, a tradition that still continues today. Over the years, however, Mardi Gras flambeaux has evolved into a kind of performance art, as the robe-wearing carriers twirl and dance with their torches, now much lighter and fueled by butane or kerosene. " 3
12. King cake
"The story behind one of Mardi Gras' most popular foods dates back to the Middle Ages. That's when people began celebrating the tradition of the Three Kings, who brought gifts to the baby Jesus on Twelfth Night (the end of Christmas and the beginning of Epiphany). Along with giving special gifts to children, the custom arose to eat a special kind of cake for the occasion. King cakes are now consumed throughout the season, beginning on Twelfth Night (January 6) and ending on Mardi Gras. Originally just a simple ring of dough, the king cake took different forms over the years; today, the most popular form is a braided Danish pastry laced with cinnamon and iced in the Mardi Gras colors of purple, green and gold. According to a tradition launched in the 1940s by Donald Entringer, who owned one of New Orleans' largest commercial bakeries, a tiny baby figurine (meant to represent Jesus) was baked into each king cake. The baby is usually made of plastic, but in past years was sometimes porcelain or even gold. According to custom, whoever gets the baby in his or her slice must buy the next cake or host the next party. As with Zulu coconuts, however, fear of lawsuits has led to changes in the king cake tradition: Many bakeries have recently stopped baking baby figurines into their cakes, instead choosing to package them separately for customers to insert themselves." 3
References
Greenspan, Jessie . "9 Things You May Not Know About Mardi Gras." History in the Headlines. History.com, 12 Feb. 2013. Web. 27 Feb. 2017. <http://www.history.com/news/9-things-you-may-not-know-about-mardi-gras>.
"1827 New Orleanians Take To The Streets For Mardi Gras." This Day in History. History.com, 27 Feb. 2017. Web. 27 Feb. 2017. <http://www.history.com/this-day-in-history/new-orleanians-take-to-the-streets-for-mardi-gras>.
Pruitt, Sarah. "From King Cake to Zulu Coconuts: The History of 6 Mardi Gras Traditions." History in the Headlines. History.com, 4 Mar. 2014. Web. 27 Feb. 2017. <http://www.history.com/news/from-king-cake-to-zulu-coconuts-the-history-of-6-mardi-gras-traditions>.