Peace, Love, and the Joy of Gumbo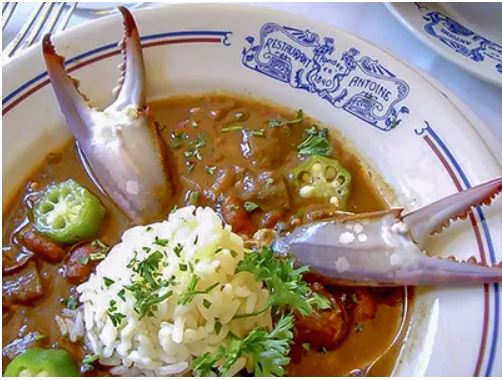 New Orleans gumbo isn't just any dish. As a company founded in The Big Easy, it's a recipe that runs deep in our roots. For Louisianians, gumbo is a source of culinary pride and a cultural symbol much like the bayou, jambalaya, and Mardi Gras.
That's why MECO has partnered with the legendary Antoine's Restaurant in the New Orleans French Quarter to share their world-famous Creole Seafood Gumbo Recipe. While this version of the recipe calls for oysters, crabs, and shrimp, there are countless ways you can make this soulful dish. In fact, because it is such a cultural staple and tradition, gumbo recipes vary greatly as one generation passes their recipe onto the next. As a result, many reference gumbo as the melting-pot of Louisiana cooking, having historical ties to West Africa, the Choctaw Indian tribe, and France.
Today, the gumbos people are most familiar with are seafood gumbo and chicken and sausage gumbo. But that merely scratches the surface of gumbo cookery, both historical and contemporary. So, if you don't have the seafood handy, don't be afraid to be creative and throw in chicken, turkey, duck and/or sausage, for starters.
Join us in tasting a little bit of New Orleans history with this mouth watering gumbo recipe from Antoine's and let us know how you like it!
Bonus Tip: If you have leftovers, don't be afraid to freeze them. Many southerners claim that gumbos taste even better after frozen, giving the roux extra time to soak up the many flavors! Download pdf/print version of the recipe here.
Recipe By: Antoine's Restaurant
Serves 6
Ingredients:
3/4 stick butter
2 cups chopped green onions
2 cups sliced okra
1 cup chopped white onions
2 cups raw peeled shrimp
2 cups raw oysters
1 cup chopped tomato pulp
2 cups tomato juice
1 1/2 quarts fish stock
3 crabs (top shell discard, cut into 4 pieces)
3 tablespoons flour
1 tablespoon File (sassafras)
3 cups cooked rice
Salt, pepper, and cayenne
Directions:
Melt the butter and sauté the green onions, okra, white onions, and crabs.
In a separate pot put the shrimp, oysters, tomatoes, and tomato juice with 1 1/2 quarts of fish stock and bring to a boil.
Let boil for a minute, then add to the first pot.
In a small skillet cook the butter and flour together until brown.
Blend this brown roux with the File and some of the gumbo liquid and add to the gumbo.
Add salt and pepper and cayenne to taste.
Simmer for 1 1/2 hours.
To serve, pour 1 1/2 cups of gumbo into each bowl over 1/2 cup rice.