Bring the "Big Easy" Home for the Holidays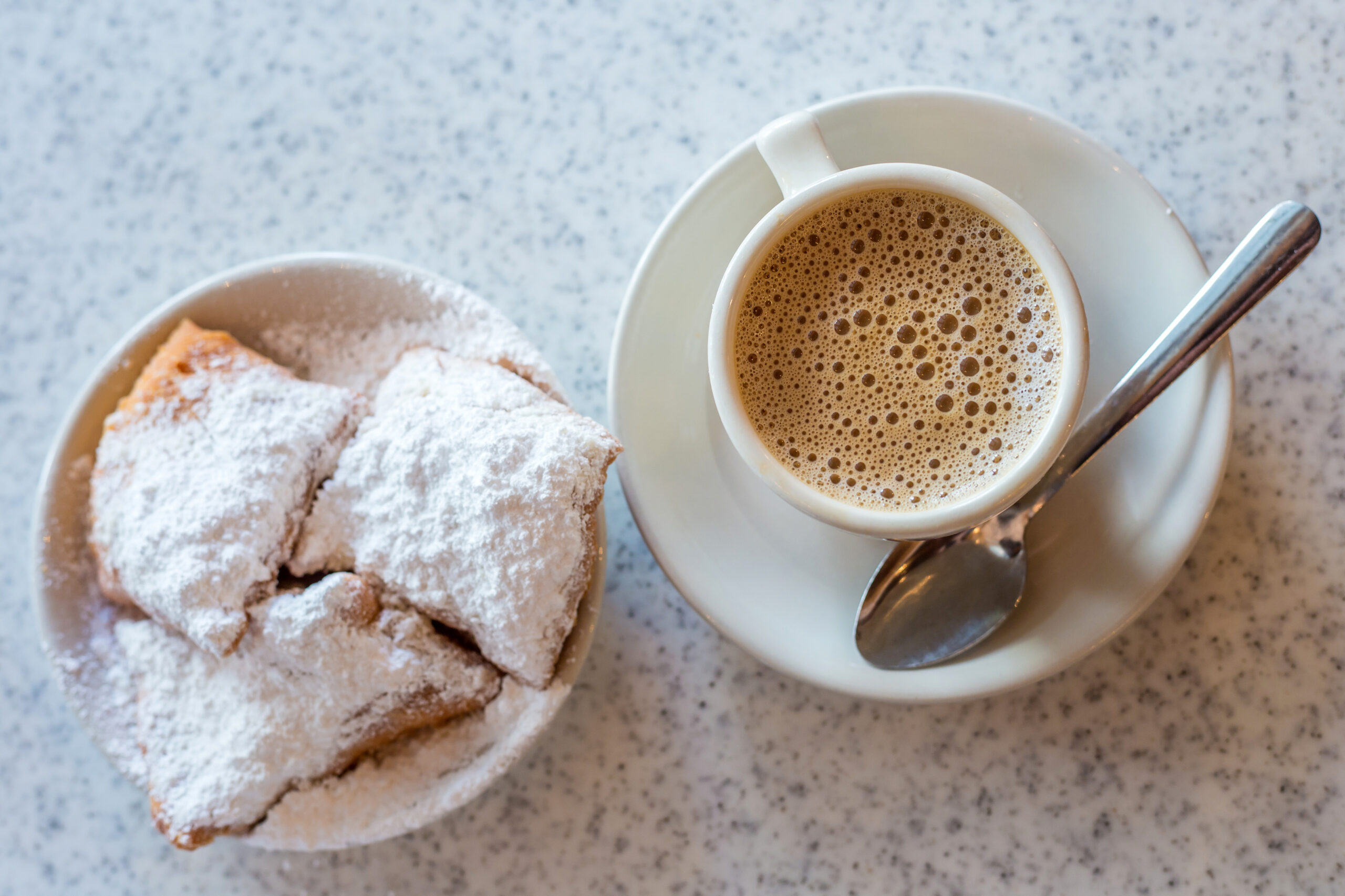 The holidays bring people together with traditions more sacred than your morning coffee. As a company founded in New Orleans, LA, it's in our blood to honor the tradition that great food isn't just an option for gatherings — it's a priority.
That's why MECO has partnered with Café Du Monde to share their world-famous beignet and café au lait recipes.
The original Café Du Monde, in the heart of the French Quarter of New Orleans, dates back to 1862. This city landmark and tourist destination is an open-air coffee shop with a small menu they've mastered: Coffee and Chicory, Beignets, White and Chocolate Milk, fresh squeezed Orange Juice, Iced Coffee and Soft Drinks.
The French brought coffee to North America by way of New Orleans in the mid-1700s. During the American Civil War, the country experienced a coffee shortage. To make every coffee grind last longer, the Acadians that settled in New Orleans blended their coffee with chicory, the root of a lettuce-like plant, Endive. This added body and a somewhat chocolaty flavor to their brew. At Café Du Monde, it's custom to serve this coffee and chicory Au Lait, which means half coffee and half hot milk.
Along with coffee and chicory, the Acadians also brought other French customs to Louisiana, including our beloved beignets. Originally, these fried fritters were often filled with fruit. Today, the traditional beignet and the ones you'll find at Café Du Monde are square pieces of dough, fried, covered in powdered sugar and served in orders of three.
Café Du Monde stays open 24 hours a day, seven days a week, except for Christmas Day and the occasional hurricane. So in order to get your Café Du Monde fix on Christmas morning, you'll have to roll up your sleeves and give these recipes a try! Doing so might just become your next favorite tradition.
Beignet Recipe
Recipe by: Café Du Monde
Ingredients:
2 cups Café Du Monde Beignet Mix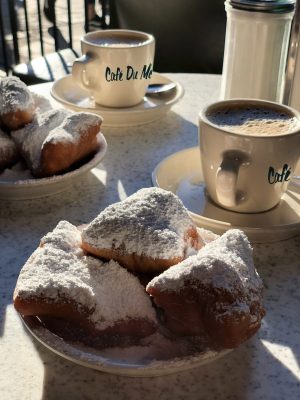 2 tablespoons flour
2 cups powdered sugar or to taste
Instructions:
In a bowl, mix 2 cups of Beignet Mix and 7 fluid ounces of water. Stir with a spoon until blended.
Roll your dough to 1/8" thickness on floured surface, using flour liberally on the dough. Cut into 2 1/4" squares. Makes about two dozen.
Fry your beignets in an inch or two of oil at 370 degrees basting continually on each side until puffy and light golden. Drain well. (Oil should be hot enough for dough to pop to surface in 8-10 seconds). Electric skillet works best.
Sprinkle generously with powdered sugar and enjoy while hot! Serve with a cup of café au lait for the full experience!
Café Au Lait Recipe
Recipe by: Café Du Monde
Instructions:
In a drip coffee pot or percolator, use one heaping tablespoon of CAFÉ DU MONDE Coffee and Chicory for each cup of boiling water. Mix freshly brewed coffee with equal amounts of hot whole milk or to suit taste.